Top
Unique drug & device technology that maximizes the value of pharmaceuticals
Terumo provides medical settings worldwide with drug & device products that combine pharmaceutical and medical device technologies. The history goes back to 1963, with Terumo's launch of Japan's first plastic disposable syringe. In 1999, the prefilled syringe—a syringe with drug product already loaded—was launched. It became widely adopted, contributing to safety and efficiency in medical settings such as ICUs and operation rooms, where urgent situations demand both speed and accuracy in drug administration. Prefilled syringes are now also used widely outside emergency medicine, and have become the standard in drug administration.
Entering into the 2000s, biopharmaceuticals began to garner attention for treating a variety of illnesses, including those that have reached a chronic state. The active ingredient in biopharmaceuticals is protein, which is sensitive to impurities, temperature, light, and other external factors, and thus is more prone to lose effectiveness than small-molecule drugs. To address these issues, Terumo developed plastic prefillable syringes that are highly compatible with biopharmaceuticals, and succeeded in raising drug value and reliability.
High expectations for contribution in a biopharmaceutical era — Prefillable Syringe
Terumo prefillable syringes include the following technologies:
- Plastic molding and drug container material development technology
Plastic is more robust and is easier to handle than glass. The material gives greater flexibility in designing and molding, and enables development of a medical device design-tailored to the type of drug administration. Also, the occurrence of impurities during the molding process has been confirmed to be smaller in plastic than in glass, making plastic a better option to ensure drug quality. In addition, Terumo developed unique materials that help to reduce drug adsorption and impurity dissolution, contributing further to drug stability and safety.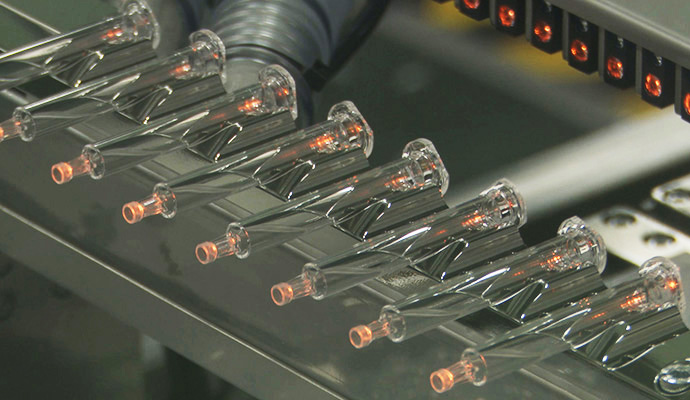 - First silicone oil-free syringe in the pharmaceutical industry
In existing glass syringes, silicone oil coating is indispensable to ensure smooth glide force of the plunger. However, silicone oil is poorly compatible with the active ingredients of biopharmaceuticals, carrying the risk of protein aggregation and oxidization, which in turn diminishes the effectiveness of the drug. Terumo developed a unique coating technology that enables better plunger glide force while mitigating protein aggregation and oxidation.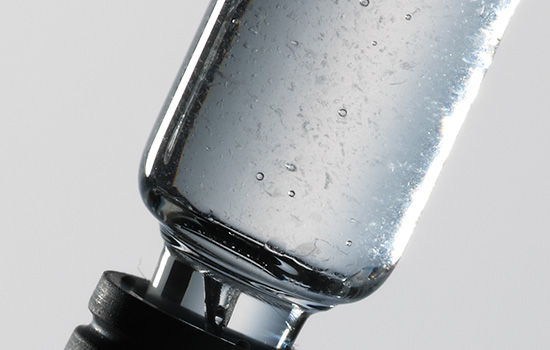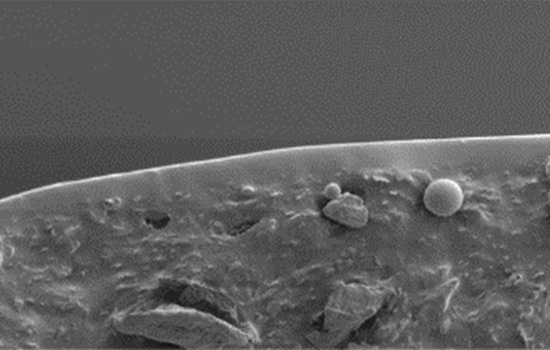 Maintaining drug quality: 
Autoclave sterilization and aseptic filling
Currently, primary sterilization methods in medical device manufacturing use gas or irradiation. However, these methods can leave residual gas or radicals, respectively, in the syringe, which weakens the effectiveness of the drug to be filled. Utilizing its expertise, Terumo successfully adopted "autoclave" sterilization, a method using high-temperature steam, which contributes to minimization of impurities and ensures the safety and quality of the drug product. Following initial sterilization, Terumo also maintains drug product quality through aseptic filling and stoppering, so that final sterilization, which could harm sensitive biopharmaceuticals, is not required as a next step.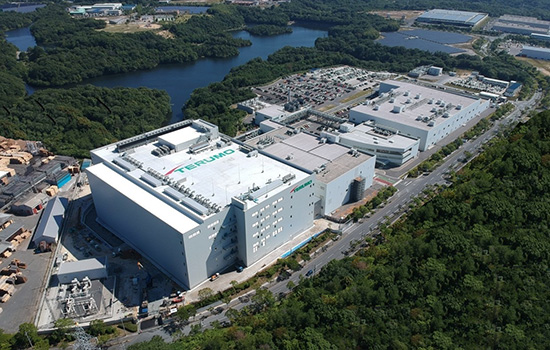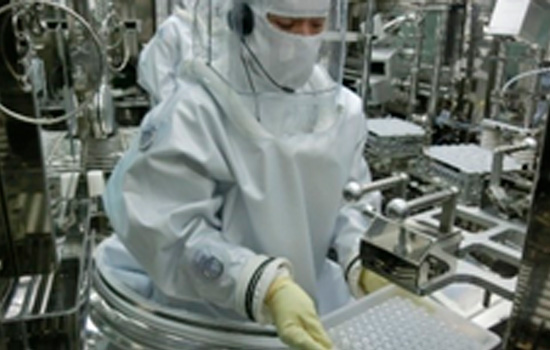 Alliances with pharmaceutical companies contribute to improved drug delivery
As biopharmaceuticals become widely used throughout the world, Terumo focuses great efforts into its Alliance business: Partnering with pharmaceutical companies in the development and manufacturing technology of administration devices, so that needed drugs are delivered and properly administered to patients. Generally, in the development of a novel drug, its container must also be determined during the early testing stage. Terumo collaborates with pharmaceutical companies from the early phase of drug development to design, evaluate, and manufacture the drug administration device. The Alliance business has seen great success in recent years, consecutively launching prefilled syringes that incorporate our drug-tailored technology, to meet the high expectations of the world's medical settings and patients.