Top
Terumo Group's R&D activities are broadly divided into two categories.
One is corporate R&D, which is responsible for medium and long-term research development. Looking ahead to the next 10 years, we aim to create new businesses and new technologies that support the growth of the sustainable growth of the Terumo Group. The corporate R&D works closely with various stakeholders including medical settings, to promote collaboration and field-based development. Another important role is to enhance the core technologies of the Group and develop new technologies. The other category is company R&D. It works on short and medium-term product pipeline enhancement based on each business field strategies, playing the role of supporting the growth of the business. In addition, the Chief Technology Officer (CTO) who overlooks the entire group is putting effort into creating synergy across regions, businesses, and organizations.
In April 2022, a new organizational structure for corporate R&D started. We have established four divisions in the Shonan Center, which is the R&D base in Japan: the CTO Office, Innovation Center, Technology Coordination Office, and the R&D Administration Dept. (figure below). The goal of these divisions is to achieve the innovation strategy mentioned in the "5-Year Growth Strategy with a 10-Year Vision" (hereinafter, GS26) that Terumo announced in December 2021.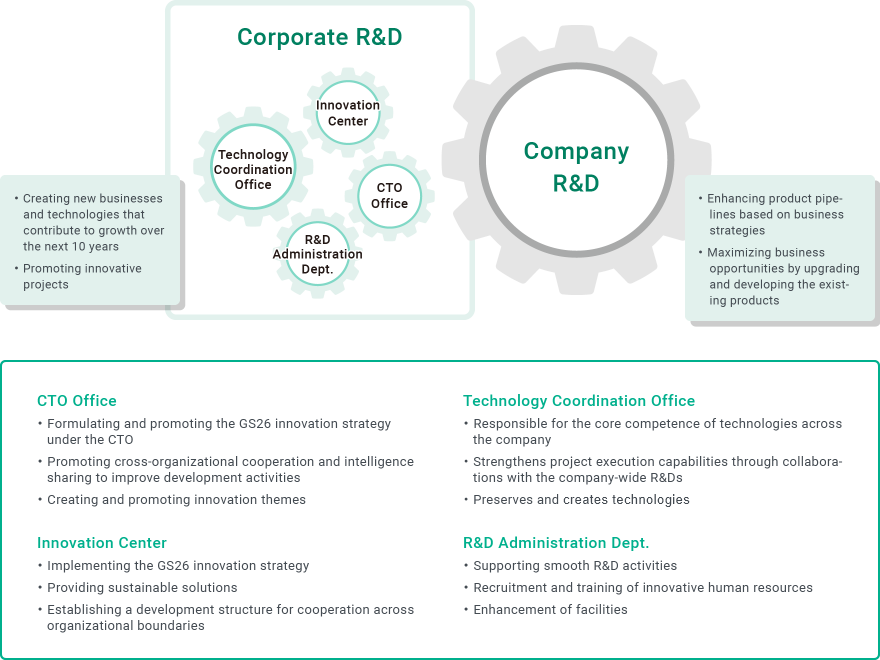 In GS26, Terumo set a vision "From Devices to Solutions" and its focus areas the "3Ds (Delivery, Digital, DeviceuticalsTM) to direct the solution development in the five years until FY2026 (check here for more details). This vision cannot be achieved by one division or business.
To enable associates who are responsible for R&D in the entire Group to fully exhibit their abilities and apply them, each corporate R&D organization will keep creating strategies, policies, and sustainable solutions to improve development activities, and will continue to strongly promote the creation of core competence for technologies across the entire Group.
These activities will help achieve a development environment where the development offices for corporate R&D and global company R&D can seamlessly cooperate and share information while being aligned with business strategies.
Terumo Group Global R&D sites
Focused on the R&D Center (Shonan Center) in Japan, Terumo is pursuing next-generation research and development through internal development as well as through the development and unification of promising technological seeds from around the world. In recent years, we have been expanding the scope of R&D activities and accelerating these activities through the globalization of development via M&A activities and strategic partnerships and through coordination between R&D sites in the United States, Europe, and other locations across the globe.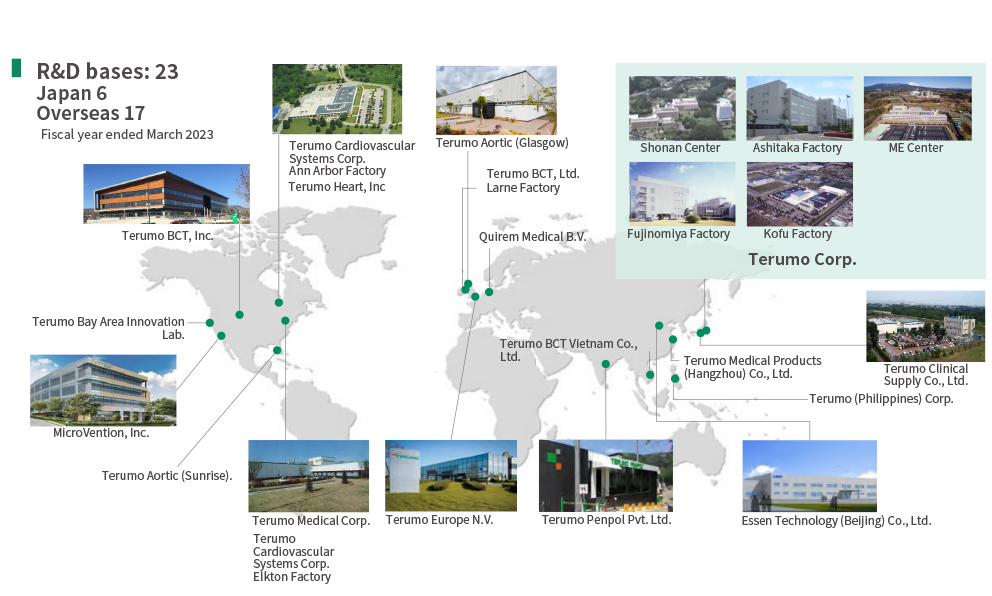 Product development collaboration system
An important feature of the Terumo product development flow is the collaboration that happens from the initial product design stages. Development projects move forward through the cooperation of a variety of departments: R&D, which proposes new products; Production Engineering, which plans how to mass-produce and bring high quality product to medical settings in a stable manner; and Regulatory Affairs, which works on regulatory approval to ensure that safe products make it to patients as rapidly as possible. More initiatives are happening in recent years, going beyond business and regional boundaries to learn technology, methods, and cultures from one another, toward creating new value.