Top
Basic concepts
The Terumo Group's research and development activities fall largely into two categories.
The first is Corporate R&D, where mid- to long-term research and development work is performed. With a future horizon of 10 years, Corporate R&D aims to create the new businesses and technologies that will support future growth for the Terumo Group. Those working on Corporate R&D projects coordinate with stakeholders such as medical settings to move development forward, while also working to strengthen Group core technologies and develop new ones.
The second category of Terumo Group research and development activities is Company R&D. Here, work focuses on supporting the growth of core business segments by strengthening short- to mid-term product pipelines in accordance with the business strategy of the individual business segments.
The Chief Technology Officer (CTO), who oversees R&D activities for the entire Group, concentrates on creating synergies by promoting cooperation across geographic, business, and organizational boundaries. In leading the promotion of organic cooperation on a Groupwide scale, while associates in Corporate and Company R&D focus on their own activities, the CTO aims to continuously engender outstanding innovation in response to frontline medical needs.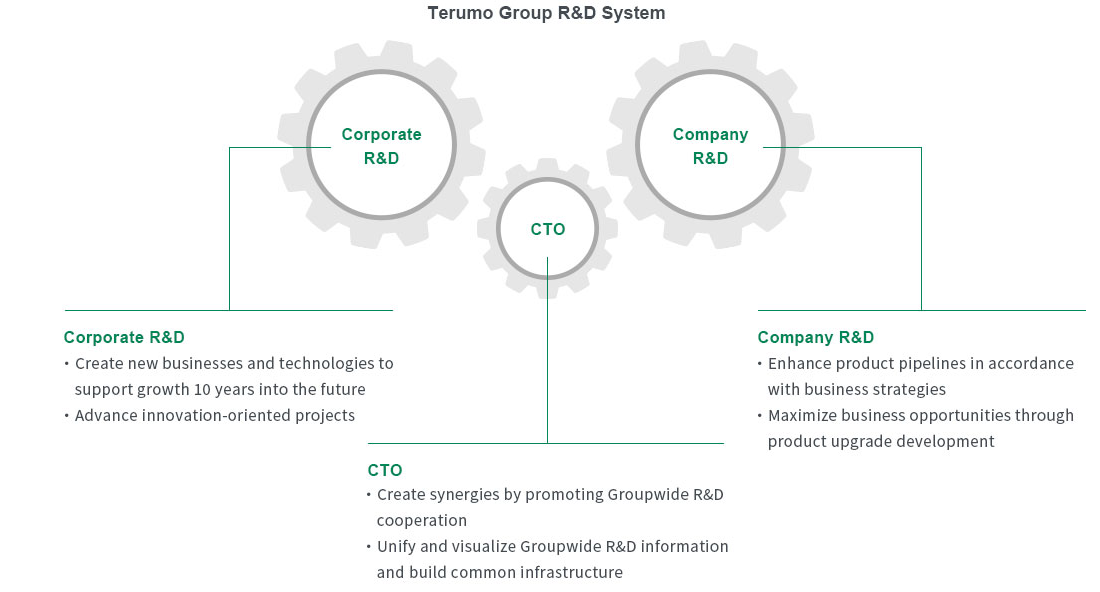 Terumo Group Global R&D sites
Focused on the R&D Center (Shonan Center) in Japan, Terumo is pursuing next-generation research and development through internal development as well as through the development and unification of promising technological seeds from around the world. In recent years, we have been expanding the scope of R&D activities and accelerating these activities through the globalization of development via M&A activities and strategic partnerships and through coordination between R&D sites in the United States, Europe, and other locations across the globe.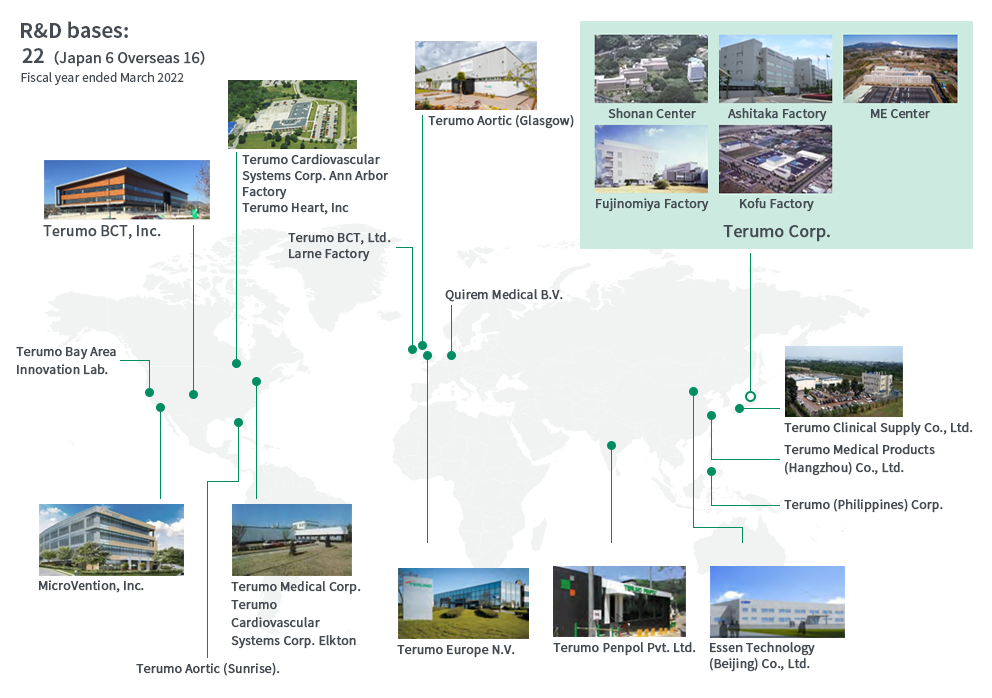 Product development collaboration system
An important feature of the Terumo product development flow is the collaboration that happens from the initial product design stages. Development projects move forward through the cooperation of a variety of departments: R&D, which proposes new products; Production Engineering, which plans how to mass-produce and bring high quality product to medical settings in a stable manner; and Regulatory Affairs, which works on regulatory approval to ensure that safe products make it to patients as rapidly as possible. More initiatives are happening in recent years, going beyond business and regional boundaries to learn technology, methods, and cultures from one another, toward creating new value.