Top
Stepping on the accelerator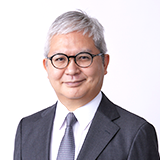 Shinjiro Sato
President and CEO
We express our deepest gratitude to all our shareholders, for your understanding and support of Terumo Group business activities.
Around the world, the COVID-19 pandemic is finally drawing to an end. Against this backdrop, medical care around the world is steadily evolving. Terumo is positioning this year as a year in which to implement reforms, and the entire Company will be stepping on the accelerator together. New technologies such as AI, digital technology, biopharmaceuticals, and cell and gene therapies are accelerating the evolution of medicine, and the healthcare industry has also been rejuvenated by a number of new entrants into the industry. Terumo will be accelerating the implementation of the strategies outlined in its five-year growth strategy, "GS26," to face challenges in medical settings with an adventurous spirit and to achieve new medical treatments.
The environment surrounding Terumo defies prediction, with inflation causing skyrocketing energy and raw material prices. Terumo is reviewing its global cost structure to strengthen its foundation for sustainable growth. Alongside transitioning into an organization that conducts global operations more efficiently by integrating IT infrastructure across the Group, we will also be implementing reforms in production by further advancing automation and labor saving in production.
As a global company with more than 80% of its workforce now overseas, last year Terumo established the Terumo Group's shared DE&I Philosophy, with the aim of further promoting an organizational culture of diversity, equity, and inclusion. In order to achieve sustainable growth, we are fostering a cooperative culture in which diverse associates respect one another's differences, have mutual respect, and are able to reach their highest potential.
We thank you for your continued understanding and support.
June 2023