Top
Terumo meets the challenge of advancing healthcare,
through steadfast quality and technology cultivated in medical settings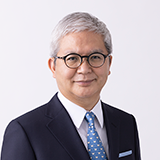 Shinjiro Sato
President and CEO
We express our deepest gratitude to all our shareholders, for your understanding and support of Terumo Group business activities. Our thoughts remain with the many people who are affected by the COVID-19 pandemic.
Many Terumo products have been actively used to fight COVID-19 in medical settings. The Terumo ECMO (extracorporeal membrane oxygenation) system received the Prime Minister's Award of the Japan Medical Research and Development Grand Prize, in recognition of its contribution to raising the survival rates of patients with severe COVID-19 infections. Terumo will continue to deliver products and services needed in medical settings as a company devoted to society and healthcare.
On the landmark occasion of its 100th founding anniversary, Terumo formulated "GS26," a five-year growth strategy that also orients the company for ten years from now and beyond. Over 20 years into the 21st Century, healthcare is undergoing enormous changes: More people living with chronic diseases as populations age; the true personalization of healthcare as genomic medicine and AI evolve; and many others. With this background, we also set forth a new vision: "From Devices to Solutions." Terumo is shifting focus from products to customers, actively engaging more with medical professionals and the entire healthcare ecosystem to better deliver integrated solutions.
Toward more global management, we have also ended the previous operating officer structure and introduced an executive officers' management system. Terumo does business in over 160 countries and regions of the world, and our management must evolve to reach a higher level. In addition, we have instituted the DE&I Philosophy, which is shared across the Terumo Group toward creating a culture of diversity, equality, and inclusiveness globally. We will continue to strive toward cultivating a corporate culture where Associates respect one another's differences, have mutual respect, and are able to reach their highest potential.
In recent years, companies are also increasingly expected to clarify their purpose. Terumo has defined as its Purpose as "contributing to the advancement of healthcare and enhancement of patients' quality of life." In this new era, Terumo remains steadfastly committed to its mission of Contributing to Society through Healthcare.
We ask for your continued understanding and support.
June 2022