Top
Basic Stance
Terumo's Group mission is "Contributing to Society through Healthcare." Guided by its mission, Terumo provides valuable products and services to achieve sustainable growth, maximize long-term corporate value and meet the expectations of its worldwide stakeholders, including its customers, shareholders, associates, business partners, and communities.
To guide it in the accomplishment of its Group mission, Terumo has articulated the Core Values, which represent the values and beliefs on which all Terumo associates worldwide should base their actions, as follows:

 

Respect – Appreciative of others
Integrity – Guided by our mission
Care – Empathetic to patients
Quality – Committed to excellence
Creativity – Striving for innovation

Based on its Group mission and the Core Values, Terumo has established these guidelines, which are intended to promote timely decision making while helping maintain transparency and objectivity in management.
Terumo continuously strives to earn the understanding and trust of its internal and external stakeholders by exercising accountability toward its stakeholders and promoting dialog and other means of communication with its shareholders.
Informed by Japan's Corporate Governance Code, Terumo has developed a global platform for its activities as a good corporate citizen.
Terumo strives diligently to foster a corporate culture of "a highly motivating and challenging workplace with open and candid communication," because Terumo believes a culture of this nature is essential to effective corporate governance.
Corporate Governance Structure
Terumo adopted the organizational design of a Company with Audit and Supervisory Committee, as described in the Companies Act of Japan, to achieve the following goals, further strengthen its corporate governance framework, and to enhance its medium- to long-term corporate value.
Strengthen audit and supervisory functions
The members of the Audit and Supervisory Committee shall have voting rights in meetings of the Board of Directors.
Enhance transparency and objectivity in management
By increasing the proportion of independent directors on the Board, transparency and objectivity in decision making will be enhanced at the Board level by reflecting opinions of the independent directors, which represent the perspective of shareholders and other stakeholders.
Expedite decision-making process
By promoting the appropriate delegation of the Board's authority to directors, group executive officers and/or executive officers, Terumo will further expedite its decision-making process and business development through a shift toward a monitoring-based approach for the Board.
Corporate Governance Structure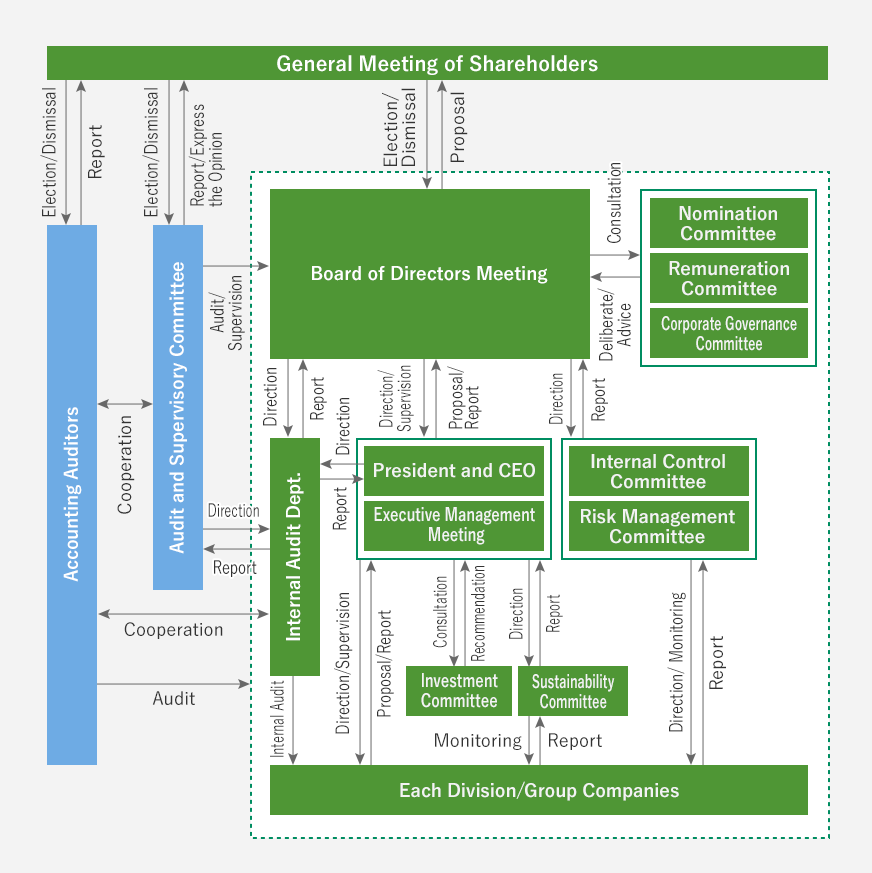 -

Audit and Supervisory Committee members are directors, and have voting rights in the BOD meeting. The majority of Audit and Supervisory Committee is constituted by independent directors.

-

Audit and Supervisory Committee serves for the function of auditing and supervising the directors and the BOD.
Corporate Governance Report
Corporate Governance Report has been submitted to the Tokyo Stock Exchange.
Internal Controls
In accordance with Japan's Companies Act, Terumo Corporation's Board of Directors has approved the "Internal Control System Design Basic Policy", and the Company promotes the establishment of an internal control system within the Terumo Group.