Top

Hospital Care Solutions Division
Solving issues hospitals face by providing solutions to help improve the quality and safety of healthcare
The Hospital Care Solutions Division offers a variety of expertise to address the needs of medical settings, including medical safety, in-facility infection prevention, and cost control. The division develops products that reduce the burden on patients and medical professionals and offer greater usability, provide operational support for medical equipment, and present training programs for medical professionals. By offering solutions to issues that are tough to solve simply by a single product, we contribute to improved treatment safety, workflow efficiency, and better quality of life for patients.
Hospital Care Solutions Division
Advanced Infusion System Products
The work of administering drugs to patients by infusion, injection, or other means happens daily in all kinds of medical settings, from ICUs to general hospital wards. Usually, a safe drug administration requires confirmation of several things during preparation and just before administration: The right patient, right drug, right volume, right method, right time, and right purpose. Care is also required for the safety of medical professionals, including management of the risk of coming into contact with drugs that affect the human body.
Terumo has pursued and incorporated into its drug administration product systems functionality and design that reduces a variety of associated risks. As drug administration management for patients has become more complex and exact in recent years, Terumo has promoted "Digital Health:" Advanced Infusion Systems equipped with drug libraries; and infusion and syringe pumps with connectivity to hospital IT systems, automated record monitoring, and prescription coordination. We will continue our efforts to standardize and make prescriptions and administration more efficient, and improve treatment safety.
Note: The regulatory approval status and availability of these products differ by country or region.
Peritoneal Dialysis Products
Patients with chronic kidney failure need dialysis treatment that removes unwanted waste products and liquid from the body. Dialysis treatment options include hemodialysis (HD), in which a patient goes to a hospital three or so times a week, and peritoneal dialysis, in which a patient can receive treatment at home or at work.
Terumo promotes peritoneal dialysis, which allows more freedom of lifestyle for patients. In addition to making peritoneal dialysis simpler and safer for the increasing number of aged diabetes patients through instruments with greater ease of use and infection-prevention measures, we are also developing dialysis aimed at reducing a patient's physical burden, toward healthcare that is more patient-friendly—what we call "yasashii" healthcare.
What is Peritoneal Dialysis (PD)?
PD is a treatment method in which waste products and liquids are removed from the blood by injecting and retaining dialysis fluid inside the abdominal cavity and the peritoneal membranes that surround the organs located there. The treatment requires a catheter to be implanted in the abdomen to enable injection and removal of dialysis fluid, and thereafter dialysis fluid is exchanged multiple times (once in 4-12hours) daily.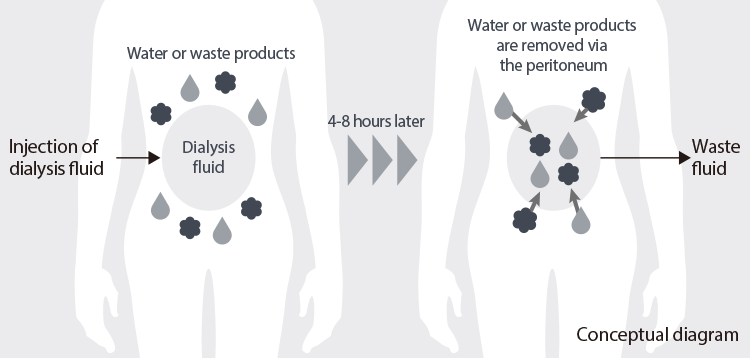 Discharge of waste products and liquid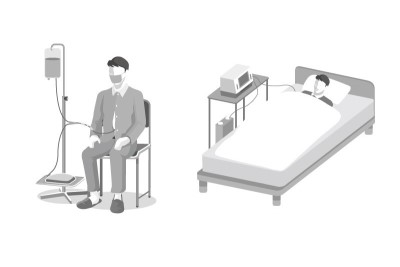 CAPD*1, which enables the patient to exchange their own dialysis fluid, and
APD*2, an instrument which automatically exchanges dialysis fluid.
The method most suitable to the patient is selected according to their condition and lifestyle.
*1

Continuous Ambulatory Peritoneal Dialysis

*2

Automated Peritoneal Dialysis
Note: The regulatory approval status and availability of these products differ by country or region.
Peritoneal Dialysate

Manually connected peritoneal dialysate exchange system
Sterile Tubing Welder

Automated peritoneal dialysis (APD) system
Infection prevention and environmental control products
In addition to maintaining environment in operating and hospital rooms, we contribute to improving work environments for medical professionals through infection prevention including hand sanitization.
Ultraviolet irradiation robot
Post-operative, Oncological Products
As Japan's aging society increases demand on healthcare and nursing care, limited healthcare resources must be utilized effectively and efficiently to make healthcare sustainable. Medical institutions are responding by separating and coordinating between hospital wards to give healthcare that matches each patient's condition, whether acute, recovery, or chronic. Acute hospitals treating patients with serious cases focus resources on advanced care; they therefore require efficiency and shorter hospital stays.
Terumo contributes to this end through post-operative pain relief medicine that enables earlier discharge, that support speedy patient recovery. In addition, Terumo provides a post-operative anti-adhesion spray, which is the first product of its kind in Japan. It helps to prevent complications from organs and tissues that can adhere undesirably during the healing process. Our complete product lineup contributes to early hospital discharges and improved patient QOL.
Note: The regulatory approval status and availability of these products differ by country or region.
Anti-adhesion
Our adhesion barrier prevents unwanted adhesion of organs and tissues during the post-operative healing process.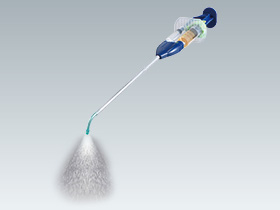 Pain Management
Reducing post-operative pain enables shorter hospital stays.