Top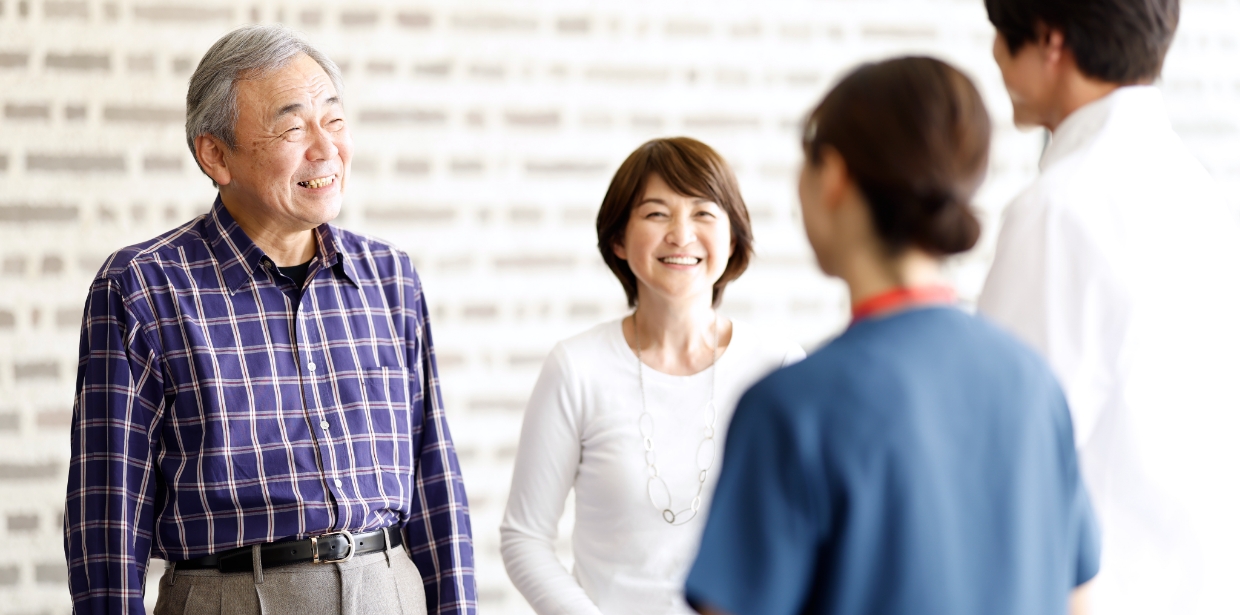 The Solutions Terumo Aims for
A huge wave of change approaches healthcare! 
What are the solutions that Terumo aims for?
Today, there is a huge wave of change approaching the environment surrounding healthcare, such as the following:"Disease structure changes" due to the improvement in living standards and the aging population worldwide. "Timeline changes" due to efforts to improve the long-term quality of life for patients living with chronic diseases. And finally, the "Technological changes" that supports healthcare. Terumo aims to catch these waves of change ahead of time, and to explore a new direction while focusing on the frontline of healthcare.
As our vision for the next 10 years, we announced "From Devices to Solutions." Throughout its history, Terumo has always endeavored to contribute to healthcare in each era, but now the time has come to contribute to the frontline of healthcare in a new direction.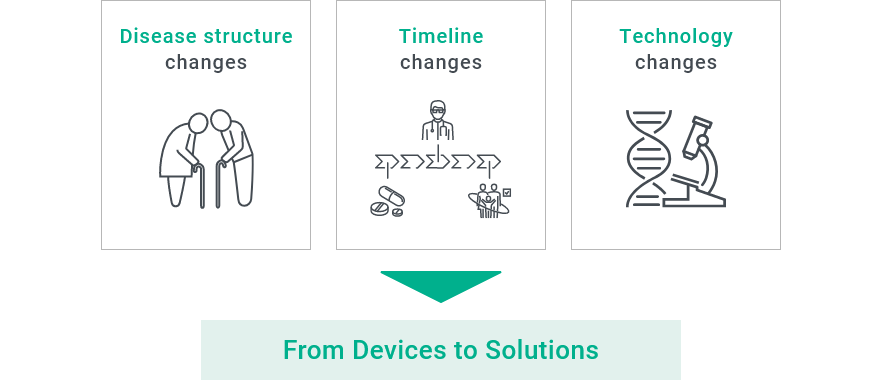 What do we mean by "solutions?" Because the concept is broad, it may be difficult to visualize. Sometimes, we get questions such as: "Is solution a kind of a service?" "Does it mean that Terumo will stop making products and shift to a consulting business?" Our solution means solving concerns and problems that healthcare professionals and patients are facing. Put simply, it means "strengthening customer focus."
In medical settings, healthcare professionals use medical devices and pharmaceuticals to treat people. Devices are indispensable. As a means to solve problems, we need not limit ourselves  to "services." It is not "devices or services." Rather, devices are important for Terumo as a manufacturer, and we would like to focus even more on "monozukuri" (manufacturing), which is our strength that we have accumulated over our history.

On the other hand, it is said that we are in an age where customers choice is not based solely on product quality. There is a flood of products in the marketplace, and the technological differences are becoming small. In the past, we were often able to solve customers' problems by providing products that meet their needs. Now it is an age where we are being challenged to provide a larger "solution" that adds value to customers.
Addressing the concerns of patients and the forefront of healthcare with Terumo's "3Ds'" strengths
How, then, should we address these issues? Ultimately, there is only one answer. It is to listen closely to our customers' concerns, and to contribute to solving their concerns with Terumo's strengths. Terumo has always held importance on the "Gemba" (frontlines), and focused on how to contribute there. However, this is obvious and for that reason, it is difficult to realize. Listening closely to our customers' concerns, thinking through to things that even the customers themselves have not realized, and addressing areas where only Terumo can. It is important to keep these points in mind as a set.
For instance, let's say there was a customer at the frontline of healthcare which had an concern of "data integration within the hospital." Companies specializing in big data utilization or IoT may be able to build a better system. However, Terumo needs to find a solution here using its unique strengths.

What then, are "Terumo's unique strengths?" It is having diverse core technologies and robust product portfolio. The "3Ds" represent its direction, and Terumo's focus area of making solutions. We are beginning to explore solutions with the keywords of "Delivery", "Digital", and "DeviceuticalsTM"
TOPICS
Taking on the Challenge for the Digital Transformation of Healthcare
Let us highlight Terumo's unique strengths within the 3Ds regarding "Digital". In April 2021, Terumo established the DX Promotion Department, and announced that it will pursue further growth by promoting both "DX for business creation" and "DX for operations." In particular, "digital transformation of healthcare" is what Terumo will challenge for "DX for business creation" which will have a large effect on the "3Ds." We will make a major directional shift to creating unique solutions by leveraging our unique position as a Japanese medical device manufacturer that offers a wide variety of products and services worldwide that cover a wide range of diseases.
(For example,)
We provide systems that assist the physician's decision making, such as a system that allows the selection of the appropriate treatment device for each patient, and creation of a treatment plan by using AI to analyze data from electronic medical records and preoperative diagnostic imaging data.
We provide not only DX for treatment of acute diseases, but also total solutions such as automatic management of test data, a highly convenient medication administration system, and digital therapy to support lifestyle improvement to ease the burden of patients with chronic diseases such as diabetes, cardiac failure, and patients requiring peritoneal dialysis or supportive care for cancer.
With Terumo's comprehensive capabilities, we create solutions that connect the flow of care which has conventionally been fragmented, covering the patients' journey from acute treatment to the chronic phase of prognosis. We achieve this by methods such as utilizing medical data to prevent diseases becoming severe or developing complications, providing early recovery programs after surgery, and remote monitoring in hospital wards and at home.
These are all initiatives that create new healthcare values by combining our strengths as a "healthcare device manufacturer" with rapidly developing advanced technologies. This cannot be achieved by Terumo alone. We will actively promote open innovation which involves not only the national and local governments, medical institutions and the healthcare industry, but also companies in other industries. Furthermore, we will promote the DX of healthcare with force, by not only collaboration, but also acquiring necessary capabilities through M&A as well as organically strengthening our development capabilities.