Top
Extracorporeal Membrane Oxygenation (ECMO) consists of an oxygenator and centrifugal pump to temporarily replace cardiac and respiratory functions and support blood circulation and gas exchange (exchange of carbon dioxide and oxygen). During the COVID-19 pandemic, ECMO has been used for patients with severe respiratory failure.
At Terumo, ECMO systems are made at the production center (ME Center) in Shizuoka, Japan, with an annual production of around 100 systems. However, since April 2020, due to the rapid increase in demand from the spread of COVID-19, we have been working to increase production to twice that amount.
Every possible measure was taken to achieve the mission
ECMO is just one of the items produced at the ME Center. They are also responsible for production of automated peritoneal dialysis (APD) system, infusion pumps, and other devices. Increasing ECMO production was their top priority, but they also needed to continue production of these other devices and finding a way to do both efficiently was essential. By allocating personnel to reduce as much waste as possible in the production process and standardizing the working hours and workload of associates in each process, while also formulating (drawing) a proactive production plan, they have been able to adapt and meet the needs of the medical settings.
In addition, securing the supply of ECMO parts was a major challenge for the ME Center. Each ECMO has more than 100 parts, some of which have a lengthy production time, and our existing suppliers had also been affected by the COVID-19 pandemic.
Parts undergoing inspection
After many negotiations with our suppliers, we were able to secure supply for some of the parts, but others had to be procured through different routes, and additional business partners had to be found. Operation restrictions at factories overseas meant that some parts would be imported incomplete, and so we arranged for the final assembly to take place in the same manufacturer's factory in Japan. During all this, the ME Center relentlessly performed detailed inspections to confirm the performance and quality of parts that came from different production processes and procurement routes. They worked tirelessly to produce safe and secure medical devices.
A production associate at the ME Center commented,
While we worked, we reminded ourselves that this is a crisis affecting the whole world, and if we can just continue to try our best, we can save lives, and help society. I think we could do that because we all understood that ECMO was crucial to supporting critical care cases.
Not only that, but because such culture has taken root at Terumo, we could confidently deliver our products to the medical field even in times of emergency like this. Whenever I glimpsed our products in media coverage of the pandemic, it made me feel that we were genuinely "contributing to healthcare". It was an intense situation to work in at the time, but saving lives was worth every effort.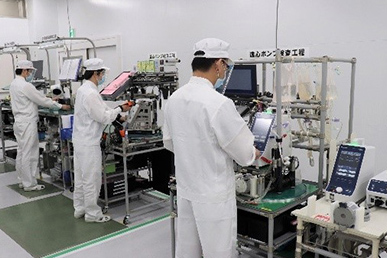 Production of ECMO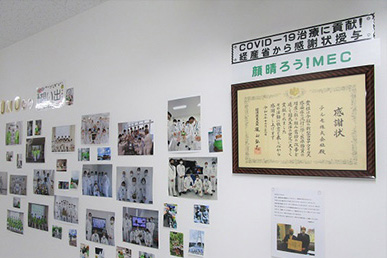 Letter of appreciation from the Ministry of Economy, Trade and Industry of Japan awarded in December 2020 in recognition of the ECMO production drive
We at Terumo Group are committed to "Contributing to Society through Healthcare" and are tireless in our effort to provide the very best for patients.