Top
As there are still no effective cure for COVID-19, the number of patients in Brazil are continuously increasing. Critically ill patients need intensive care at hospitals; as such, the country faced a tough situation where it was urgently required to put in place a way to accommodate the rapidly growing numbers of patients. Brazil's federal, state, and city governments have worked together as a nation to address this pressing shortage of medical facilities. To date, the country has set up a number of temporary hospitals in places such as stadiums, sports facilities, and public parks - adding up to 15,000 more beds for COVID-19 patients. Terumo has been devoted to provide infusion pumps that are essential for drug administration in intensive care units (ICUs), as well as the training to use them.
Temporary Soccer Stadium Hospital:
Mission to Support Swift ICU Facility Setup
Sao Paulo is a megacity in Southeastern Brazil with a population of around 12 million. It is also the epicenter of Brazil's COVID-19 outbreak. Pacaembu Stadium in Sao Paulo is known as one of the stadium that held matches for the FIFA World Cup hosted in 1950. The soccer field was chosen as a location to build a temporary hospital, where patients can be carried in from hospitals across the city by ambulance. The construction project proceeded at an expeditious speed. Only 11 days after starting construction on March 21, there were 200 beds in place.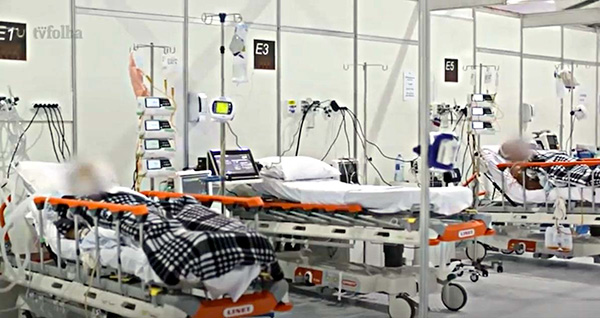 ICU Beds at Pacaembu Stadium
Credits: Folhapress
Over 100 Terumo infusion pumps were set up amongst these ICU beds. Infusion pumps are medical devices used to stabilize patient conditions, by controlling intravenous administration of drugs. Since patient lives directly depend on these devices, Terumo could not just supply the product, but also needed to ensure the infusion pumps would be used safely and effectively. In the short period of time before the temporary hospitals opened, associates of Terumo Medical do Brasil Ltda. (TMB) poured their collective efforts and completed training for all doctors, nurses, and ambulance staff. Times of emergency calls for creativity. In addition to on-site trainings, TMB associates made support tools such as short instruction videos that can be viewed and shared on mobile phones, which helped complete training on time.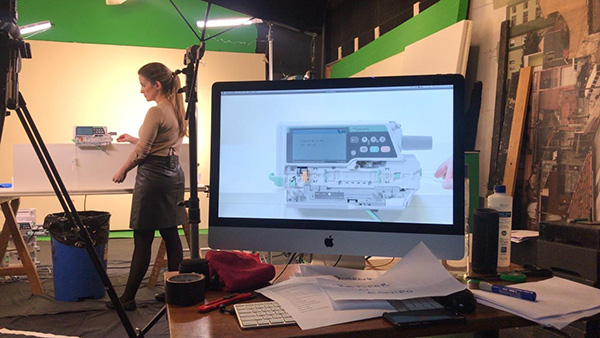 Filming Instruction Videos
To Continue Medical Support
The battle against COVID-19 rages on at hospitals in Brazil. Terumo is also staying battle-ready, to be able to provide the support needed in medical settings at any time. For example, many hospitals that admit COVID-19 patients are observing strict "locked door policies" where only staff and related personnel are allowed to enter the hospital to ensure safety and prevent the spread of the virus. With that in mind, Terumo is taking steps such as distributing pocket manuals and setting up remote support hotlines to answer questions in order to immediately address problems related to infusion pumps.
With Terumo's corporate mission of "Contributing to Society through Healthcare" in mind, TMB associates are striving to ensure that safe and reliable healthcare can be provided continuously.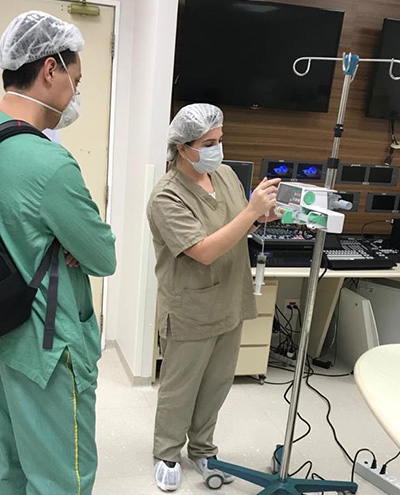 Terumo Associate Training How to Use Infusion Pumps
A TMB Associate Commented,
In addition to temporary hospitals, we have also provided infusion pumps to work on ICU trains. The ICU trains transport patients from remote areas of Northern Brazil to cities that have ample medical facilities. These are all historical projects happening in Brazil, and being involved in such an unprecedented initiative, while also making contributions to medical professionals and patients has rekindled my enthusiasm for Terumo's corporate mission and core values that we pride ourselves on each day.