Top
While contributing to patients and medical professionals through its core business, the Terumo Group also engages in social contribution activities rooted in the communities where it operates. Leveraging our associates' skills and time, we address health, medical, and other social issues that are affecting the communities where we live and work.
Supporting the Spread and Development of Healthcare
From the Heart: Blood Donation Activities in Countries throughout the World
Terumo Blood and Cell Technologies launched their "From the Heart" program in January of 2021 to further Unlock the Potential of Blood and Cells to promote global, voluntary blood donation. They are a global industry leadership in blood component, therapeutic apheresis and cellular technologies and so have a profound understanding of the need for a safe, sustainable blood supply to enable more equitable healthcare access around the world. They hosted numerous drives in many regions around the world for both our associates as well as the communities we are fortunate to call home. They hosted and sponsored drives throughout the year with a special focus on World Blood Donor Day on June 14. Associates donated blood and volunteered at many of the blood drives to ensure a safe and adequate blood supply in India, Africa, Japan, Latin America, North America and other APAC countries. India alone sponsored more than 756 blood donation camps and a 100-day Blood Donation campaign to celebrate the 100-year anniversary of Terumo. Associates donated more than 2,800 units of blood and the various global communities contributed more than 25,000 units which is estimated to impact more than 85,000 lives.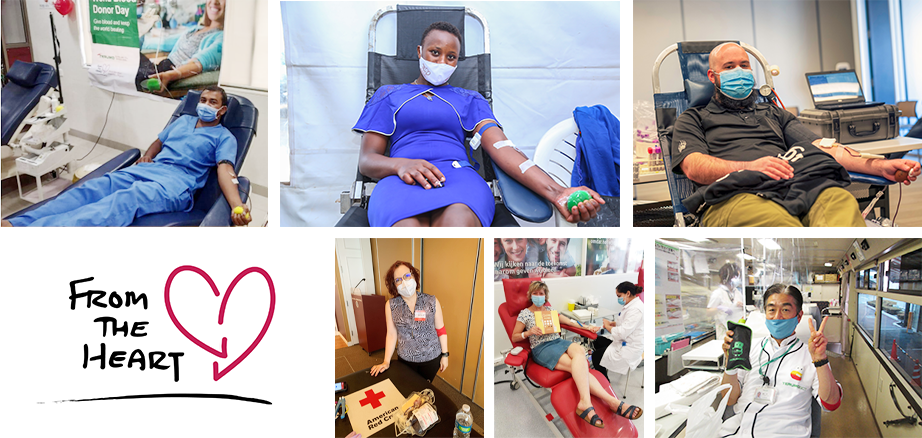 Terumo Blood and Cell Technology Associates around the world rolled up their sleeves to donate blood and save lives.
CoBA: Coalition of Blood for Africa
Aligned with our From the Heart campaign is our work with CoBA. CoBA is increasingly recognized as the leading voice for access to adequate, safe and sustainable blood in Africa, including by the World Health Organization. Terumo Blood and Cell Technologies leads the working group around Technical and Capacity Building for CoBA. Highlights from the program this year include increasing awareness about the need for blood donation and increasing the actual donations. A social media campaign on World Blood Donor Day reached more than 4 million Africans and a Facebook sponsored "Give Blood" campaign reached over 8.5 million Africans. A blood drive in Kenya on International Women's Day increased blood collections by more than 1300% over 3 days. To celebrate World Blood Donor Day on 14 June, Global Blood Fund (GBF) partnered with the Africa Society for Blood Transfusion (AfSBT), and the Coalition of Blood for Africa (CoBA) to release multiple interpretations of Pete Townshend's song 'Give Blood', performed by leading African artists. Musician Pete Townshend gave permission for his classic song 'Give Blood' to be used for the first time to promote blood donation on 14 June.
CoBA (Coalition of Blood for Africa)
Supporting the Leukemia & Lymphoma Society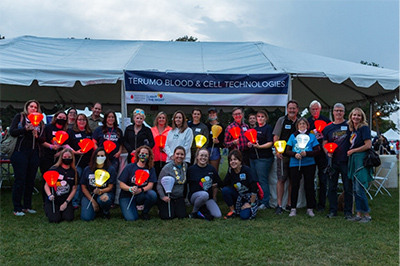 Participants including Terumo BCT's associates
One of the longest standing community relationships at Terumo Blood and Cell Technologies is the partnership with the Leukemia and Lymphoma Society (LLS). LLS is the world's largest nonprofit health organization dedicated to funding blood cancer research and providing patient education and services which is directly in line with our goal to Unlock the Potential of Blood. The partnership started in 2007 to raise funds as part of their Light the Night fundraising campaign. This year, more than $100,000 was donated by our associates, organization, and sponsors. The campaign finished for the year with an in person walk in Denver to honor survivors, support those who are currently fighting and remember those they have lost.
TERUMO LIFE SCIENCE FOUNDATION
Contributing to Improvements in Medicine and in the Health of All People through the Advancement of Life Science Technologies
The TERUMO LIFE SCIENCE FOUNDATION was established through contributions by Terumo Corporation in 1987 with the aim of contributing to improvements in medicine and in the health of all people through the advancement of life science technologies. The foundation focuses its activities on three areas: subsidies for domestic and overseas research and development programs for creating technologies in the field of life science, awards for promising researchers that have made outstanding achievements in the field of medical-engineering collaboration and integration, and educational activities to share the appeal of life science with younger generations.
Targets of subsidies include research and development projects for creating new value in medical settings in Japan and for improving healthcare and public hygiene in developing countries. In addition, subsidies are provided to fund social contribution activities and workshops for enhancing medicine and healthcare levels. In fiscal 2021, subsidies totaling ¥323 million were provided to 159 projects. Awards for researchers include the establishment of the Tai Morishita Memorial Award in the hope that it will provide an opportunity for more talented people to enter the field of medical-engineering collaboration and integration. Educational activities include the operation of the Life Sciences DOKIDOKI Laboratory website, which is mainly intended for junior high and high school students. The site provides young users—leaders of the future—with the basic knowledge required to understand life sciences as well as information from the front lines of life science fields presented in an easy-to-understand format. This year, new quiz contents were added that will help people to develop an interest in the life sciences while having fun. The TERUMO LIFE SCIENCE FOUNDATION will continue such initiatives going forward with the aim of contributing to the improvement of medicine and healthcare.
TERUMO LIFE SCIENCE FOUNDATION