Top
TOKYO, JAPAN - December 7, 2018 - Terumo Corporation (TSE: 4543) today announced that a biosimilar, which uses the company's PLAJEX™ pre-fillable syringe, has launched in Europe. Terumo manufactures the product Hulio®, a biosimilar to Humira® (adalimumab), on contract. This marks an important milestone, as the first overseas commercial launch for PLAJEX™.
Fujifilm Kyowa Kirin Biologics Co., Ltd. and Terumo jointly designed the formulation of Hulio®. Terumo Yamaguchi D&D Corporation, a wholly-owned subsidiary of Terumo Corporation, is conducting the manufacturing on contract, and Mylan N.V. will commercialize the product in Europe. Hulio® is available in two forms: a pre-filled auto-injector suited to self-injection; and a pre-filled syringe whose design especially focuses on medical safety. *
"Patient safety is our first priority, and PLAJEX™, which is a polymer pre-fillable syringe specially developed for use with biopharmaceuticals, matched our needs seamlessly for the use in Hulio®. The polymer material is harder to break and safer to use compared to the conventional glass syringe." commented Dr. Yoshifumi Torii, President and CEO of Fujifilm Kyowa Kirin Biologics Co., Ltd.
"The design and manufacturing method of PLAJEX™ is also unique, being silicone oil-free, and using autoclave sterilization. This contributes to reduce risks such as aggregation and oxidation of the biopharmaceuticals. We are confident that this exciting collaboration will help elevate patients' QOL." commented Tetsuya Kumei, Division President of the Alliance Division, General Hospital Company, Terumo Corporation.
Going forward, Terumo will use its material manufacturing technologies and filling technology for pre-fillable syringes to continue expanding its alliance businesses with pharmaceutical companies.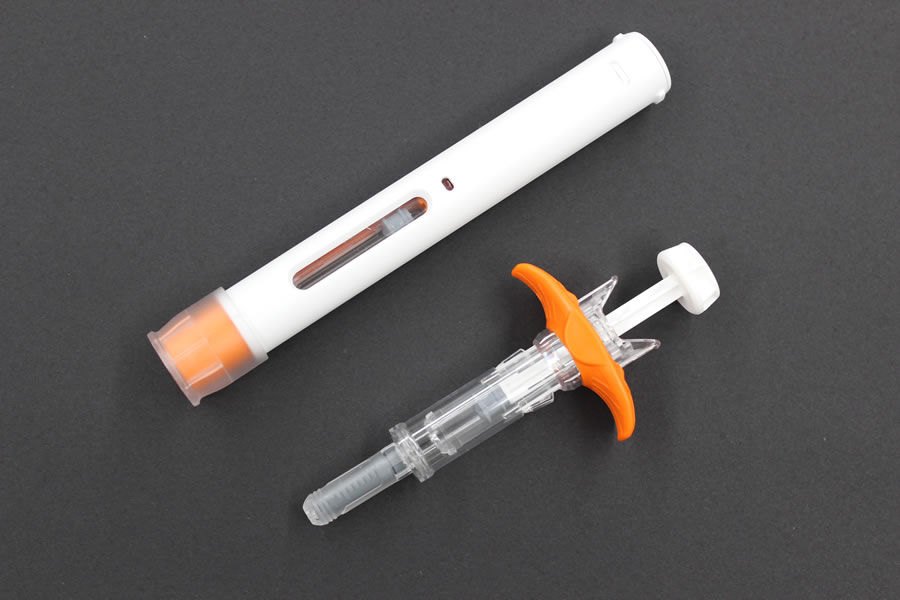 *

The auto-injection pen incorporates Switzerland-based Ypsomed's auto-injector, and the pre-filled syringe incorporates France-based Nemera's safety device.
About Terumo
Terumo (TSE: 4543) is a global leader in medical technology and has been committed to "Contributing to Society through Healthcare" for 100 years. Based in Tokyo and operating globally, Terumo employs more than 28,000 associates worldwide to provide innovative medical solutions in more than 160 countries and regions. The company started as a Japanese thermometer manufacturer, and has been supporting healthcare ever since. Now, its extensive business portfolio ranges from vascular intervention and cardio-surgical solutions, blood transfusion and cell therapy technology, to medical products essential for daily clinical practice such as transfusion systems, diabetes care, and peritoneal dialysis treatments. Terumo will further strive to be of value to patients, medical professionals, and society at large.
Media Contact
Corporate Communication Dept., Terumo Corporation