Top
ANN ARBOR, MICH. - November 14, 2018 - Terumo Cardiovascular Group, a global leader in cardiovascular surgery technologies, today announced that the U.S. Food and Drug Administration (FDA) has granted 510(k) clearance for the CDI® Blood Parameter Monitoring System 550, adding real-time monitoring of oxygen delivery as one of 12 critical blood parameters.
Oxygen delivery, or DO2, is an indicator of the amount of oxygen being delivered to a patient during cardiopulmonary bypass. Carefully monitoring DO2 has been shown to help reduce the incidence of Acute Kidney Injury, a common complication of cardiac surgery.1
"For more than 30 years, Terumo's CDI Systems have been the most trusted and used continuous in-line blood gas monitors for critical blood parameters," said Robert DeRyke, President and CEO of Terumo Cardiovascular Group. "We are continuing to develop monitoring technologies for the cardiac OR - and beyond - that will improve patient outcomes and result in meaningful value for our customers."
Continuous in-line monitoring during cardiopulmonary bypass surgery is a critical component of perfusion safety. It quickly alerts clinicians to changes in patient status and delivers information on key parameters that helps clinicians manage perfusion cases.
The new CDI System 550 measures or calculates these 12 key parameters: pH, pCO2, pO2, K+, temperature, SO2, hematocrit, hemoglobin, base excess, bicarbonate, oxygen consumption and oxygen delivery.
Building on an industry-standard platform, the next-generation CDI System 550 offers market-leading optical fluorescence technology, a high-visibility LCD screen, advanced probe design, and IEC 60601-1 3rd Edition compliance.
1

Ranucci M, Romitti F, Isgro G, et al. Oxygen Delivery During Cardiopulmonary Bypass and Acute Renal Failure After Coronary Operations. Ann Thorac Surg. 2005;80:2213-20.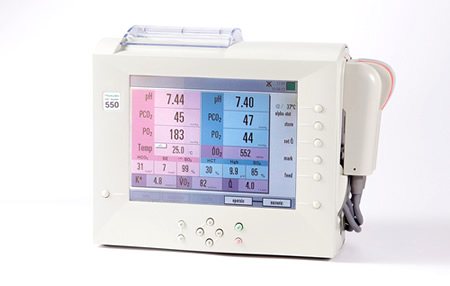 About Terumo Cardiovascular Group
Terumo Cardiovascular Group manufactures and markets medical devices for cardiac and vascular surgery with an emphasis on cardiopulmonary bypass, intra-operative monitoring and vascular grafting. The company is headquartered in Ann Arbor, Michigan, with manufacturing operations in the U.S., Europe and Asia. It is one of several subsidiaries of Terumo Corporation of Japan that is focused exclusively on cardiac and vascular specialties. For more information, visit www.terumo-cvgroup.com.
About Terumo
Terumo (TSE: 4543) is a global leader in medical technology and has been committed to "Contributing to Society through Healthcare" for 100 years. Based in Tokyo and operating globally, Terumo employs more than 28,000 associates worldwide to provide innovative medical solutions in more than 160 countries and regions. The company started as a Japanese thermometer manufacturer, and has been supporting healthcare ever since. Now, its extensive business portfolio ranges from vascular intervention and cardio-surgical solutions, blood transfusion and cell therapy technology, to medical products essential for daily clinical practice such as transfusion systems, diabetes care, and peritoneal dialysis treatments. Terumo will further strive to be of value to patients, medical professionals, and society at large.
Media Contact
Corporate Communication Dept., Terumo Corporation