Top
TOKYO, JAPAN - June 20, 2018 - Terumo Corporation (TSE: 4543) today announced that it acquired CE marking for the Kanshas™ drug coated balloon (DCB) catheter used in the treatment of lower extremity peripheral arterial disease. With a September launch in Europe, Terumo is expected to be the first Japanese company to launch DCB sales in Europe, and the European launch will be followed with launches in Latin America and Asia, as well. Terumo aims a 10% share of the European DCB market in the future.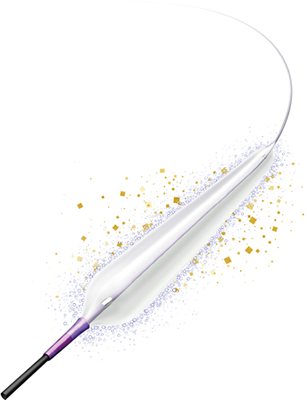 Peripheral arterial disease is a condition in which blood vessels narrow and blood flow deteriorates due to arteriosclerosis in the legs, and it has become more prevalent in recent years due to aging populations and lifestyle diseases. This treatment procedure uses a small balloon at the end of a thin catheter to dilate narrowed blood vessels in lesions, and it has been popular around the world because it provides a less invasive treatment option for patients.
A drug coated balloon catheter is a medical device coated with a drug that suppresses cell proliferation on the balloon surface. When the balloon is expanded, it comes into contact with the blood vessel walls, transferring the drug to the vascular tissues, which is expected to suppress restenosis.
Kanshas™can be expected to have an enhanced therapeutic effect due to Terumo's proprietary uniform micro-crystal coating named Unicoat™, which has been designed so that the coated drug is less likely to migrate before it reaches the lesion and then transfers swiftly to vascular tissue when the balloon is expanded. Product lineup of long balloon with a range up to 200mm can be treated for long lesions, which are common in the lower extremities.
Terumo is aiming to expand its peripheral vascular intervention business globally and is building up its product portfolio. The launch of Kanshas™ is part of this strategy. Going forward, Terumo is determined to enhance its contribution to medical treatment in the endovascular field.
About Terumo
Terumo (TSE: 4543) is a global leader in medical technology and has been committed to "Contributing to Society through Healthcare" for 100 years. Based in Tokyo and operating globally, Terumo employs more than 28,000 associates worldwide to provide innovative medical solutions in more than 160 countries and regions. The company started as a Japanese thermometer manufacturer, and has been supporting healthcare ever since. Now, its extensive business portfolio ranges from vascular intervention and cardio-surgical solutions, blood transfusion and cell therapy technology, to medical products essential for daily clinical practice such as transfusion systems, diabetes care, and peritoneal dialysis treatments. Terumo will further strive to be of value to patients, medical professionals, and society at large.
Media Contact
Corporate Communication Dept., Terumo Corporation