Top
Sunrise, FL, April 30, 2018 - Terumo Aortic announced today that the first two patients have been successfully enrolled in the RelayBranch Early Feasibility Study. This trial will assess the safety and efficacy of the RelayBranch Thoracic Stent-Graft system in patients with thoracic aortic pathologies requiring treatment proximal to the origin of the innominate artery. Luis Sanchez, M.D., Chief of the Section of Vascular Surgery and Marc Moon, M.D., Chief of the Section of Cardiac Surgery, Washington University in St. Louis - Barnes Jewish Hospital, performed the procedures.
The standard operative approach in patients with aortic arch pathology is a median sternotomy. The distal aspect of the arch and proximal descending thoracic aorta are difficult to expose through a sternotomy and pose an additional risk to the patient. The RelayBranch Thoracic Stent-Graft system establishes an endovascular alternative for patients requiring this type of surgical intervention. Presently, there are no commercial endovascular treatment options available for patients with thoracic arch pathologies. Dr. Sanchez commented "RelayBranch expands the range of endovascular treatment options for a high risk population. We are very pleased to be able to offer an endovascular alternative to our patients." Dr. Moon will present details of the cases at the 98th Annual AATS meeting on Tuesday, May 1st in San Diego, CA.
The RelayBranch Thoracic Stent-Graft system consists of a Main-Body Graft which is deployed in the ascending aorta and features two anterograde tunnels that give way to a large cannulation window. Branch Grafts are then deployed within these tunnels for both the innominate artery and left common carotid artery. The tunnels have Lock Stents incorporated into them which were designed to provide a secure engagement with the Branch Grafts and prevent modular disconnection. This Early Feasibility Study is the first US clinical trial of a double branch design for the treatment of thoracic arch pathologies.
Terumo Aortic has leveraged their NBS (Non-Bare Stent) technology in the design of the Main Body which features a fully covered proximal end that is clasped to the delivery system to enable an accurate deployment. "Terumo Aortic is uniquely positioned to collaborate directly with surgeons and address unmet clinical needs. We are excited to provide patients with a less invasive treatment option through this innovative technology" said John Canning, CTO of Terumo Aortic.
The RelayBranch system incorporates the use of the RelayPro delivery system that is currently under clinical trial in the US. RelayPro is a low profile next-generation delivery system that features a mechanical advantage mechanism allowing for a controlled and accurate deployment of the prosthesis. The RelayPro delivery system also features the dual sheath and self-aligning technologies that have been the pillars of the Relay family of products.
The RelayBranch system highly complements the thoracic portfolio that Terumo Aortic delivers along with its standard surgical grafts and hybrid devices. This comprehensive portfolio places them in a unique category as the only company to offer both Surgical and Endovascular solutions for thoracic arch pathologies.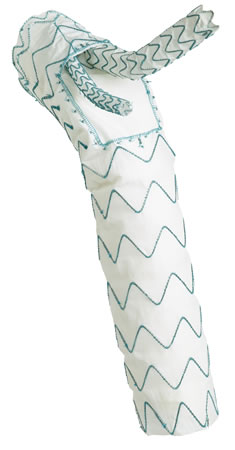 About Terumo Aortic
Terumo has combined Bolton Medical and Vascutek to power a dedicated approach focused on aortic innovation. With operations in Glasgow, Scotland and Sunrise, Florida, the integrated company offers advanced technologies such as surgical grafts, hybrid grafts and catheter-based stent graft systems to meet the unique needs of each patient and transform the treatment of aortic disease.
Notes
Vascutek and Bolton Medical are both subsidiaries of the Terumo Corporation of Japan, a global medical device company which was founded in 1921 and currently has over 22,000 employees worldwide.
Terumo acquired Vascutek in 2002 and Bolton Medical in 2017.
Vascutek has 800 employees and Bolton Medical 300.
About Terumo
Terumo (TSE: 4543) is a global leader in medical technology and has been committed to "Contributing to Society through Healthcare" for 100 years. Based in Tokyo and operating globally, Terumo employs more than 28,000 associates worldwide to provide innovative medical solutions in more than 160 countries and regions. The company started as a Japanese thermometer manufacturer, and has been supporting healthcare ever since. Now, its extensive business portfolio ranges from vascular intervention and cardio-surgical solutions, blood transfusion and cell therapy technology, to medical products essential for daily clinical practice such as transfusion systems, diabetes care, and peritoneal dialysis treatments. Terumo will further strive to be of value to patients, medical professionals, and society at large.
Media Contact
Corporate Communication Dept., Terumo Corporation