Top
Daiichi Sankyo Company, Limited
Terumo Corporation
Tokyo, Japan, April 10, 2015 - Daiichi Sankyo Co., Ltd. (hereafter, Daiichi Sankyo) and Terumo Corporation (hereafter, Terumo) today announced that Japan Vaccine Co., Ltd. (hereafter, Japan Vaccine), an affiliated company of Daiichi Sankyo, has filed an application for the manufacture and sales approval in Japan for an intradermal seasonal influenza vaccine (hereafter, The Vaccine).
The Vaccine is a pre-filled syringe type, intradermal influenza HA vaccine*1 co-developed by four companies [Daiichi Sankyo, Terumo, Japan Vaccine and Kitasato Daiichi Sankyo Vaccine Co., Ltd (hereafter, Kitasato Daiichi Sankyo)] under a February 23, 2012, agreement between Daiichi Sankyo and Terumo for the co-development of an intradermal vaccine for infectious diseases.
Terumo developed the intradermal injection*2 device, which offers a more easy-to-use, surefire method to administer the vaccine than current methods. The device is also expected to ease patient hesitation to be injected and lower the risk of damaging peripheral blood vessels and nerves within the subcutaneous tissue.
Daiichi Sankyo is committed to contributing to further the prevention of seasonal influenza through The Vaccine, as well as contributing to the protection of people's health by working to promote and enrich the preventive treatment environment and improve hygiene through the production of practical vaccines which meet medical demands.
Terumo aims to provide a new value to the medical front by combining high specialties in both pharmaceutical products and medical devices. Through these innovative developments, Terumo aims to establish itself as a company with a global presence in the medium to long-term.
*1

An intradermal injection device developed by Terumo, which is a combination of a pre-fillable syringe with a needle specially designed for intradermal injection, pre-filled with influenza HA vaccine developed by Kitasato Daiichi Sankyo.

*2

Recent study reports improved antigen-recognition by the immune system and enhanced effect of the vaccine through intradermal vaccine injection. (Hickling JK, Jones KR, Friede M, Zehrung D, Chen D, Kristensen D: Intradermal delivery of vaccines: potential benefits and current challenges. Bull World Health Organ 89: 221-226, 2011.)

Image of intradermal injection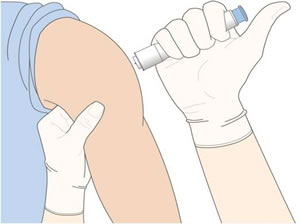 About Terumo
Terumo (TSE: 4543) is a global leader in medical technology and has been committed to "Contributing to Society through Healthcare" for 100 years. Based in Tokyo and operating globally, Terumo employs more than 28,000 associates worldwide to provide innovative medical solutions in more than 160 countries and regions. The company started as a Japanese thermometer manufacturer, and has been supporting healthcare ever since. Now, its extensive business portfolio ranges from vascular intervention and cardio-surgical solutions, blood transfusion and cell therapy technology, to medical products essential for daily clinical practice such as transfusion systems, diabetes care, and peritoneal dialysis treatments. Terumo will further strive to be of value to patients, medical professionals, and society at large.
Media Contact
Corporate Communication Dept., Terumo Corporation