Top
Terumo Corporation (Headquarters: Shibuya-ku, Tokyo, Japan. President: Yutaro Shintaku) announces it will establish a Research and Development center in Southern California, US to enhance its R&D capability of the coronary and peripheral interventional therapeutic area. Terumo will invest approximately 10 billion JPY to the center and is intending to start the operation in FY2017.
Terumo's R&D capability in Southern California and Silicon Valley, California, US
MicroVention, Inc., Terumo's subsidiary in Southern California, has been the innovation center for Terumo, consistently developing new products in a timely manner. The region is one of the leading medtech business clusters in the US and offers access to a pool of medtech experts.
Terumo has decided to build the new R&D center for the development of cutting-edge interventional systems products by leveraging MicroVention's capability and networking resources in a technology area.This initiative will allow Terumo to be firmly poised for accelerating interventional business growth in the US, the largest medtech market. The facility will also drive forward neurovascular device development lead by MicroVention.
In addition, Terumo has been actively investing in Silicon Valley: investing in a venture capital fund since 2013, establishing its own venture subsidiary in 2014, and this year, setting up its own R&D stronghold. The venture capital fund searches for both cutting-edge technologies and new innovative ideas. The venture subsidiary is responsible for incubating innovation while the stronghold pursues the early-stage product development.
Terumo will capitalize on these R&D resources in California which will further accelerate leading-edge medical innovation.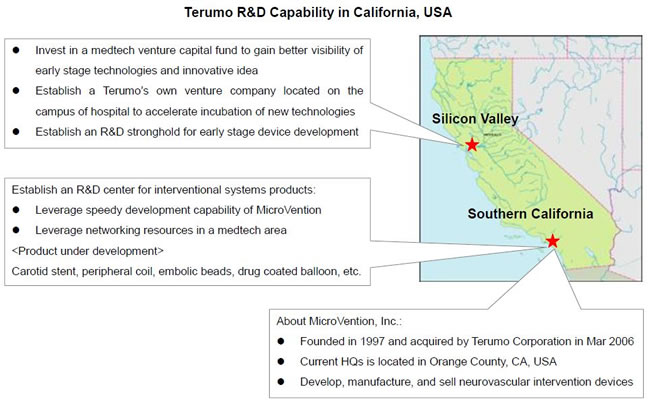 About Terumo
Terumo (TSE: 4543) is a global leader in medical technology and has been committed to "Contributing to Society through Healthcare" for 100 years. Based in Tokyo and operating globally, Terumo employs more than 28,000 associates worldwide to provide innovative medical solutions in more than 160 countries and regions. The company started as a Japanese thermometer manufacturer, and has been supporting healthcare ever since. Now, its extensive business portfolio ranges from vascular intervention and cardio-surgical solutions, blood transfusion and cell therapy technology, to medical products essential for daily clinical practice such as transfusion systems, diabetes care, and peritoneal dialysis treatments. Terumo will further strive to be of value to patients, medical professionals, and society at large.
Media Contact
Corporate Communication Dept., Terumo Corporation