Top
Terumo has associates with credentials as doctors and nurses, whose jobs involve applying their expertise in the development and distribution of medical devices and in educating people about their proper use. Some associates also have experience working as clinical trial engineers or as social workers. Many of them were sympathetic to the struggles of their local medical institutions in dealing with COVID-19 pandemic and were anxiously wondering what they could do to help.
Terumo Europe, one of the affiliate companies of Terumo overseeing the EMEA region, had launched an initiative to support these associates who have clinical or medical backgrounds at utilizing their abilities to the fullest as volunteers in the healthcare system. Associates could apply to the company to engage in volunteer activities on paid leave. Responses came from associates all over the region who wanted to help in healthcare as volunteers, and they each contributed in a variety of different settings.
Associate who joined the civil protection service in Spain
Being a sales representative at Terumo, with a professional and educational background as a nurse, I had a hard time staying home knowing that the healthcare system in Belgium was under so much pressure. Therefore, I decided to join an elderly home as an adjunct head nurse for multiple COVID departments. The majority of the staff was on sick leave upon my arrival, so from the first day I understood that this would be a huge challenge. In the midst of a crisis situation, I created a team out of people that had just met and established some structure. My experience at Terumo as a sales representative definitely helped me communicate with staff and residents. At the end of my four weeks as a volunteer, calm returned to the elderly home.
Associate who joined the civil protection service in Spain
As a volunteer, I joined the civil protection service where I helped COVID-19 patients with prescriptions and went shopping for elderly people. One of the main reasons I started volunteering was that my mother who lives by herself has my siblings living nearby to support her. I signed up because I realized that there are people who are in similar circumstances but without any family help.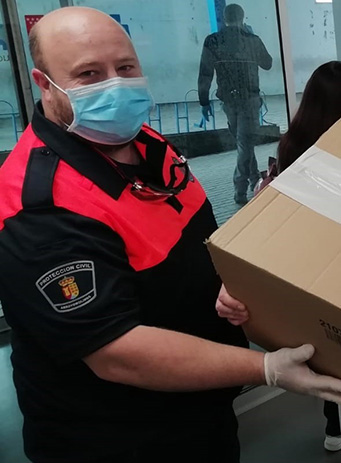 Associate who provided medical assistance at hospital in Spain
I volunteered to call patients who are awaiting catheterization and are homebound because of the pandemic. My task was to ask them how they were doing and give them the much-needed courage to endure the wait until catheterization. All the patients have been very grateful for the calls.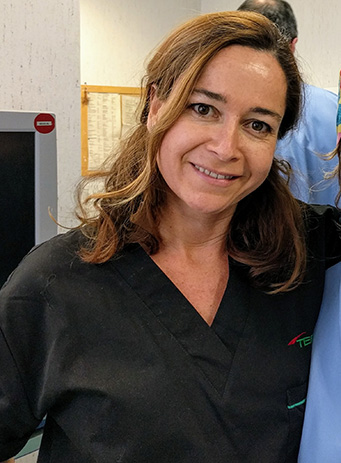 Care – Empathetic to patients: One of the shared Core Values of the Terumo Group. Terumo is home to a growing support network of associates who share this value and think what they themselves are capable of, then translate these thoughts into actions.