Top
Leuven, Belgium – June 2, 2022 – Radboudumc and Terumo Europe N.V. signed yesterday a strategic collaboration agreement. Together, the two partners will improve existing treatments for cancer patients and develop new, personalized therapies. Focus will be on the clinical use of holmium-166 microspheres, small radioactive beads.

Holmium-166 microspheres are currently used in the image-guided irradiation of liver tumors from the inside. This technique is also called radioembolization or selective internal radiation therapy (SIRT). Using a catheter, millions of radioactive beads, or microspheres, are injected into a patient's hepatic artery. The radioactive microsphere then lodge in blood vessels in and around the targeted tumor(s), irradiating the tumor cells at close range.

Personalized treatment
The biggest challenge with radioembolization is getting the right number of microspheres to the right places in the body to reach the correct dose to the tumor. "The Radboudumc is ideally placed to investigate this further," says Jurgen Fütterer, interventional radiologist at Radboudumc. "In our MITeC operating rooms, we can follow the microspheres live on the MRI during treatment. This way we learn to control them better and we can also adjust the dosage on the spot to the individual patient."

The holmium-166 microspheres are supplied by Deventer-based Quirem Medical, a subsidiary of Terumo Europe N.V.. Quirem Medical and Radboudumc have been collaborating on radioembolization for several years.  With the new collaboration agreement, Terumo is intensifying its research collaboration with Radboudumc.
"With the recent creation of the Global Therapeutic Interventional Oncology team, Terumo Europe N.V. aims at developing improved cancer care. In that effort, this collaboration with Radboudumc is an essential milestone and we look forward to an accelerated innovation for the benefit of patients. " said Laurent Domas, Vice-President Global Interventional Oncology Strategy and Therapy Development at Terumo.

New applications for out-of-treatment patients
Radioembolization is now mainly used in patients with primary or secondary liver cancer, for whom surgery is no longer an option. Radioembolization helps to extend the lives of these patients. Radboudumc and Terumo Europe N.V. hope to be able to offer them more perspectives in the future with this image-guided and personalized treatment.

"Our approach is unique; the image-guided and custom-dosed administration of the holmium microspheres has not yet been done anywhere in the world," says Frank Nijsen, associate professor at Radboudumc and group leader of the radioembolization study. "Together with Terumo Europe N.V., we will further refine this technique. Our research focuses on patients with conditions that are currently not or barely treatable: metastatic liver cancer, but also brain cancer and pancreatic cancer."

"We are delighted with the confidence Terumo has expressed in our research and facilities," said Jan Smit, member of the Board of Directors at Radboudumc. "Terumo's expertise and input also help tremendously in accelerating and translating our research into concretely applicable therapies. Hopefully, this will ultimately benefit cancer patients around the world."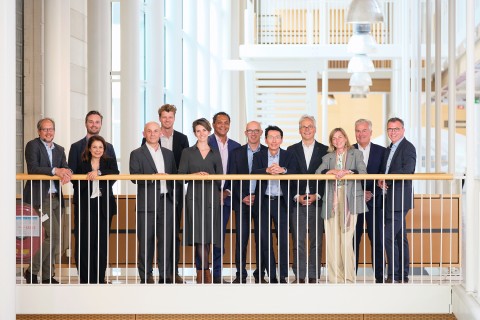 About Terumo Europe N.V.
Terumo Europe N.V. is a core player in the EMEA healthcare market by providing best in class quality medical products and services. We are a strong actor of the Terumo Group by contributing to innovation and sustainable growth. Terumo Europe produces, distributes, markets, and sells a vast range of medical devices in five main business units: Interventional Systems, Pharmaceutical Solutions, Medical Products, Cardiovascular Products and Diabetes Management. Terumo Europe EMEA headquarters and production facilities are located in Leuven (Belgium), production facility in Knowsley (UK), European Distribution Center in Genk (Belgium) and sales offices across EMEA.
www.terumo-europe.com
About Radboudumc
Radboudumc wants to lead the way in the development of innovative, sustainable and affordable healthcare and has the mission: 'to make a significant impact on healthcare'.
About Terumo
Terumo (TSE: 4543) is a global leader in medical technology and has been committed to "Contributing to Society through Healthcare" for 100 years. Based in Tokyo and operating globally, Terumo employs more than 30,000 associates worldwide to provide innovative medical solutions in more than 160 countries and regions. The company started as a Japanese thermometer manufacturer, and has been supporting healthcare ever since. Now, its extensive business portfolio ranges from vascular intervention and cardio-surgical solutions, blood transfusion and cell therapy technology, to medical products essential for daily clinical practice such as transfusion systems, diabetes care, and peritoneal dialysis treatments. Terumo will further strive to be of value to patients, medical professionals, and society at large.
Media Contact
Corporate Communication Dept., Terumo Corporation