Top
Terumo Corporation (Headquarters: Shibuya-ku, Tokyo, Japan; President: Yutaro Shintaku) announced today that it has received approval for manufacturing and selling its Ultimaster drug-eluting coronary stent (DES) in Japan. Since first releasing Ultimaster in Europe in May 2014, Terumo has gone on to sell the product in more than 40 countries in Asia and Latin America. The sales release in Japan is scheduled for October 2015.
DES

used in Japan in a majority of interventional treatments of myocardial infarction and other coronary events

A stent is a medical implant device used in the treatment of angina pectoris, myocardial infarction, and other coronary events caused by stenosed or blocked blood vessels (coronary arteries) that send nourishment to the heart. In Japan, stents are used in approximately 200,000 cases every year.

After a stent is implanted in a blood vessel, the vessel may become restricted again, causing tissue proliferation or other complications. This is why DES have come into use in a majority of treatments, as the drug can be gradually released to the surrounding tissues, which is expected to reduce such tissue proliferation.
Terumo's original bioresorbable polymer and drug coating technology is expected to help lower the frequency of thrombosis
For Ultimaster, Terumo adopted bioresorbable polymer as the drug coating material and coated only the outer surface that comes into contact with the blood vessel tissues with the polymer and drug. For this reason, Ultimaster is expected to help lower the frequency of stent thrombosis* cases over the long term.
Furthermore, Terumo used cobalt chromium alloy as the material and devised a unique design that makes it easier to navigate the stent through the blood vessels and implant it along the curvature of the vessels. The aim of this design was to reduce stress on the blood vessel walls and improve medical prognosis.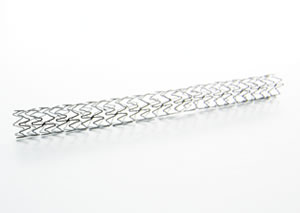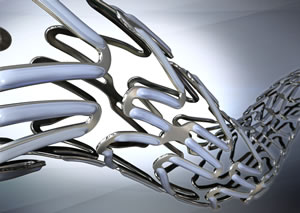 *

Stent thrombosis is a complication that occurs when a blood clot forms inside an implanted stent and constricts or blocks the passageway of the stent.
About Terumo
Terumo (TSE: 4543) is a global leader in medical technology and has been committed to "Contributing to Society through Healthcare" for 100 years. Based in Tokyo and operating globally, Terumo employs more than 28,000 associates worldwide to provide innovative medical solutions in more than 160 countries and regions. The company started as a Japanese thermometer manufacturer, and has been supporting healthcare ever since. Now, its extensive business portfolio ranges from vascular intervention and cardio-surgical solutions, blood transfusion and cell therapy technology, to medical products essential for daily clinical practice such as transfusion systems, diabetes care, and peritoneal dialysis treatments. Terumo will further strive to be of value to patients, medical professionals, and society at large.
Media Contact
Corporate Communication Dept., Terumo Corporation